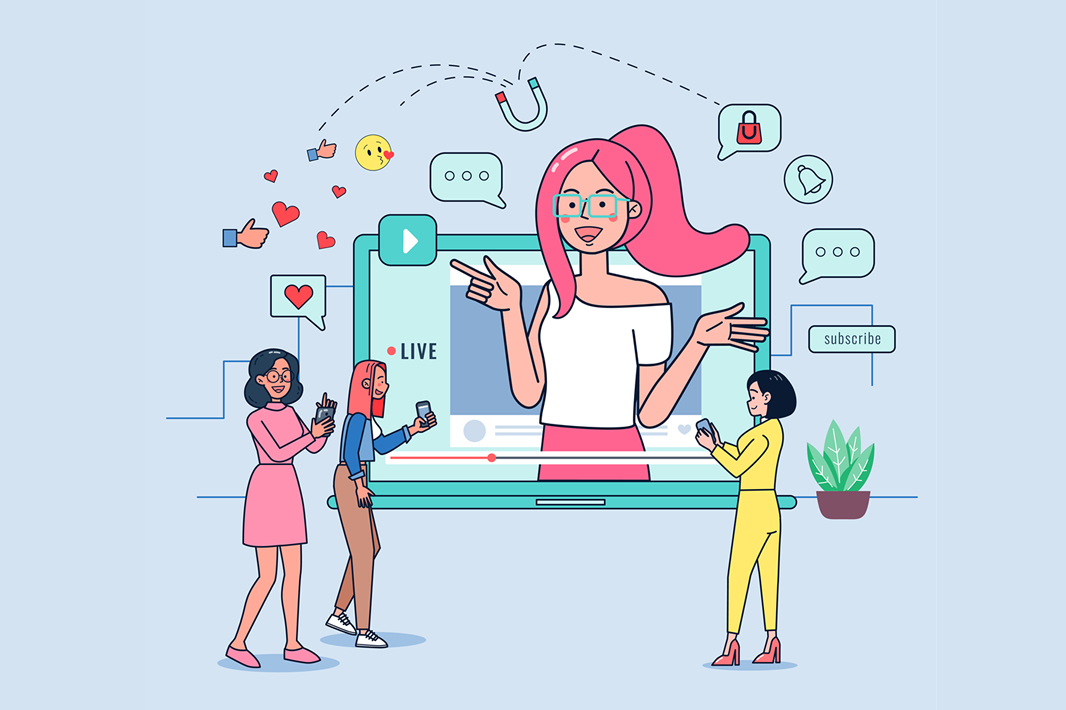 Live streaming is quite popular among people out there. Due to the availability of stable internet connections with high bandwidth, people have the opportunity to stream content without thinking twice. Therefore, businesses, marketers, and any other person can start to stream videos. It is even possible for you to start your own TV streaming business by purchasing a TV hosting panel. 

Before you start live streaming, you should have a clear understanding of the benefits and risks associated with it. Let's take a look at them in detail. Based on the information we share; you can decide whether you are going to start live streaming or not. 

Benefits of live streaming
As the first thing, let's take a look at the list of benefits that come along with live streaming. These are all the good reasons on why you should proceed with live streaming.

-    You can create a sense of urgency 
Live streaming is a powerful tool available for marketers. That's because you can create a sense of urgency with the help of it. This is based upon one of the most popular concepts of marketing, which is the Fear of Missing Out. Once you start the live stream, you can get people's attention to it. That's because people will notice that you are not going to broadcast the same video tomorrow. This will help you to create fear of missing out effectively in your audience.

Regardless of the content you stream, it is a proven method available to create a sense of urgency. This is highly effective when compared to other mediums. By capitalizing this opportunity, you will be able to get more attention to the brand with ease.

-    Live streaming is cost-effective
Live streaming videos are a cost-effective source of content when it comes to content marketing techniques. Going live on Facebook or YouTube is completely free. You don't need anything fancy in terms of equipment or basic setup to get outstanding results. Mobile gadgets are also acceptable. Advertising your live broadcasts is more successful than promoting other sorts of content because of the expanded reach, and the ROI is usually larger.

Live video creation involves more planning than on-demand video production, but once you've finished your show, you're done. You don't need to spend another few hours revising and preparing it for publication. To put it another way, there are no post-production costs or headaches.

-    You can have a better reach 
It is possible for you to boost your reach with the help of live streaming as well. There are numerous platforms that you can use to stream video content. YouTube, Facebook, and Twitch are some of the most prominent platforms out of them. When you are streaming on these platforms, you can easily get more exposure. That's because they will give more priority to the live-streamed videos than other types of content available. Because of this, you can make sure that your videos are getting more attention when compared to others. 

A live-streamed video can help you to reach out to more people. That's because people who watch videos tend to spend 8 times more time in order to watch live streamed videos. Therefore, you can easily get your message to more people with the assistance of a live stream.

-    You can interact with your audience in a unique way
You will be able to use the live stream to interact with your audience in a unique way as well. That's mainly because the live-streamed video can help you to develop a strong connection with the audience. Moreover, you can deliver a personal experience to them with content you stream or the business you promote.

Back in the day, businesses were impersonal and untouchable to the people. However, consumer behavior in today's world has changed, and people expect to engage with brands in a more personal way. This is where you may take a look at live streaming. As you continue to live stream content, your audience will be able to leave comments and engage with it. Some people will even go ahead and share your content. By doing this, you will be able to make your brand more reachable to people in a personal way. This will eventually contribute towards the success of a business.

-    You can secure more engagement with real-time interactions
Connecting with consumers in person is preferable to interacting with them online. The real-time engagement initiates a discussion with your consumers that is second only to in-person connection but considerably more scalable. Your audience will be more likely to interact with your material if it is broadcast live. People wish to go ahead and be a part of the dialogue during live videos, and they are more inclined to share it.

For example, it is identified that live videos on Facebook tend to gain more attention from the viewers. In fact, live videos on Facebook receive six times more engagement when compared to regular videos that are uploaded to the social media network.

-    You can repurpose content effectively
If you believe your company needs more material and want to produce videos on demand, you need to keep in mind that streamed videos may be reused afterwards. You may record your live broadcast and then share it as extra content on your social media networks after it's over. As a result, it becomes a video-on-demand service.

If you're going to reuse material, be sure it'll work as a video on demand. If you perform a flash sale with a live video, for example, repurposing it may not be optimal until you alter it. However, if the live video is instructive, it may be uploaded to your YouTube channel as a video.

-    You have the freedom to stream anything 
Another benefit of live broadcasting for companies is the flexibility it provides. There are no constraints. If you like, you can go live for hours. It is possible for the material to be more personal, but it is also possible for it to be more business-related. It might either be more commercial or more educational. The options are limitless.

-    It is possible to develop a sense of trust 
Building trust is critical to a company's success. Potential consumers want to be familiar with the brand and know that they can trust it. On live video, the amount of engagement helps viewers to form a bond with the company. This connection leads to trust if they like what they see.

What are the risks of live streaming? 
Similar to benefits, there are some risks associated with live streaming as well. Let's take a look at what those risks are.

-    You will have to bear the risk of streaming content live  
Another downside of live streaming for companies is that it is the only way to improve at it. Keep in mind that errors are certain to occur. However, there are a few things you may do to reduce the number of mistakes.

To begin, you and your team may practice as much as possible, as well as record a dry run. As a result, you'll be able to view your film and see where it may be improved. Second, you should evaluate your efforts after each time you go live to see where you can improve. Many viewers provide input in the comment box, which is taken into consideration. Finally, you can prepare for errors. Create contingency plans for anything that may go wrong, so you'll know what to do if something goes wrong.

-    There are no second chances
For brands, not having a second chance may be frightening since it implies that there is no space for error. That, however, is not the case. Live bloopers can create a negative impact on what you stream. It adds a human element to the broadcast, which is crucial for people to connect with your business.

Because there are no do-overs, you must be more prepared than you would be for on-demand films. Make a live stream checklist to ensure you've double-checked all of your equipment. Put everything you'll need within easy reach.

Final words
Now you have a good overall understanding of the benefits as well as the risks of live streaming. While keeping these in mind, you can decide whether you are going to do live streaming or not. Since you are aware of the risks of live streaming, you may take appropriate measures to minimize the risks that you have to face as well. Then you will be able to get the most out of the live content that you are streaming.

It is also better if you can get the help of a reliable streaming control panel to proceed with live streaming. A perfect example for such a video streaming panel is VDO Panel. Then you will not have to go through any technical difficulties as you live stream content. You have all the freedom to live stream content as per your preferences. Based on that, you can end up securing the best returns out of your live-streaming efforts. 
Tuesday, December 5, 2023